We are available 24/7 support@turtletry.com
"It's a

must-have survival tool.

It helped me get out of

bad situations

numerous times." Mark, Former US Navy, and Pro Survivalist"
Emergency Waterproof Sleeping Bag
Attention Campers! How to stay safe against a danger that kills over 5000 people in the US wilderness every year?
Say goodbye to life-threatening risks and fully enjoy nature with this new emergency sleeping bag! This Emergency Sleeping Bag is a life-saver, you need to have one with you every time you go out in the wilderness!
It's the one thing every survival pro will tell you to grab first when leaving for an adventure.
World Camping Survival Day
We are giving away 50 sets of these Emergency Waterproof Sleeping Bag at
78% OFF + FREE Shipping

Today Only. First Come First Serve Basis. Don't Miss Out.Claim This Exclusive One Time Offer Now!

You can't beat mother nature. No one can. When you're in the wild, things can go from good to bad in a matter of seconds. You can come face to face with a bear. You can get lost. Dehydration, hunger, infections, rockfalls, avalanches, injuries, all of them can put an end to your adventure, or worse, to your life.

It's all fun and games until it's not… and when shit hits the fan, you need to be prepared. Your survival kit needs to be equipped with tools for any situation. And most importantly, it needs to be equipped with the most under-rated survival tool of all time – the emergency waterproof sleeping bag.

Why? Because that small bag can make the difference between survival and death. It can save you from the number 1 danger in the wilderness. Something that kills over 5000 people every year in the United States alone.

The Cold. More exactly, hypothermia.
Due to constant email asking for an extension, we are extending the offer for another day and giving everyone one last chance.
Grab it before its gone forever!Once gone, come back again in December 2019.​
Once your body starts losing heat faster than it can produce heat, you're on a slippery slope. You must, with emphasis on must, keep your body warm… and fast. That's the only way you have a chance to survive. And that's where the emergency sleeping bag comes in.

Packed, it's smaller than a can of soda and you can store it anywhere ( in your car, in your backpack, in your pocket), but opened it's 200 cm long and 91 cm wide.

It fits you perfectly no matter how big you are.

Both shell and lining are made of high-quality PE and thanks to the high-quality materials, 90% of the heat your body emits will come right back to you. That's extremely important when your body is in shock.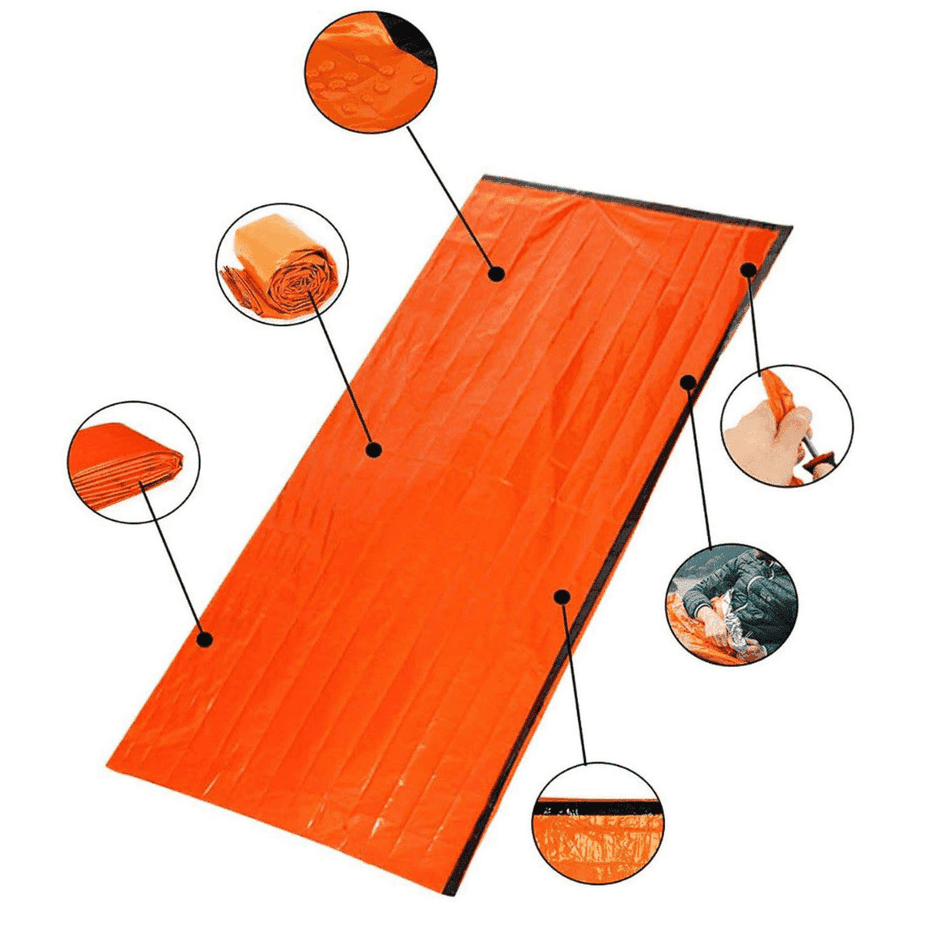 It weighs less than a smartphone, so lightweight is an understatement – You can carry it at all times. It's Orange, making it easier for rescuers to see you.

It doesn't matter if it's winter or summer, if it rains like crazy or if you're dealing with gusts of wind, this bag will keep you warm and cozy in every situation.

It's Orange, making it easier for rescuers to see you.

It's 100% waterproof and windproof. It doesn't matter if it's winter or summer, if it rains like crazy or if you're dealing with gusts of wind, this bag will keep you warm and cozy in every situation.

Perfect for all type of outdoor activities – camping, hiking, fishing, skiing, climbing or even if you're just taking a drive.
WHAT OUR CUSTOMERS SAY
"Good item to have for emergency"
"This is a good item to have for emergency situations particularly during bad weather. I particularly chose this item for the price and size. I am using it as part of the emergency kits for our automobiles. It is also great for camping and for go bags."- Micheal L. , 46
"Works perfectly!"
"A cousin of mine is a mountaineer, and he asked me if I can give him something useful during camping. I came across the sleeping bags, and this catches my attention the most. They are too small, and I don't think he will like it, but I bought it anyway. I was giggling when I gave it to him. He was curious and when he opened it he was amazed. He said it is very convenient and it will reduce the weight of the bag that he'll carry. In case of an emergency. I hope there would be a variety of color for us to pick. Nevertheless, it works perfectly."- Helms , 35
"Great product!"
"This blanket is very long. I was not able to see the width because I was afraid I wouldn't be able to fold it back up, but it seemed to be several folds wide. The whistle also works very well. Perfect size for the glove box in the car and to take hiking/camping. Great product!"- V Gonzales, 57
Why Must You Buy This?
If you want to stay safe from brutal winds and rain
If you want to protect yourself from the number 1 danger in the wilderness – Cold
If nature is calling and you want to have an undisturbed experience
If you always think – safety first
Specifications:
Tear-resistant, weather-resistant

Fully waterproof

Installed in seconds

Ultra lightweight 110g

Made of best PE Coating

Life Saver

Multiple Use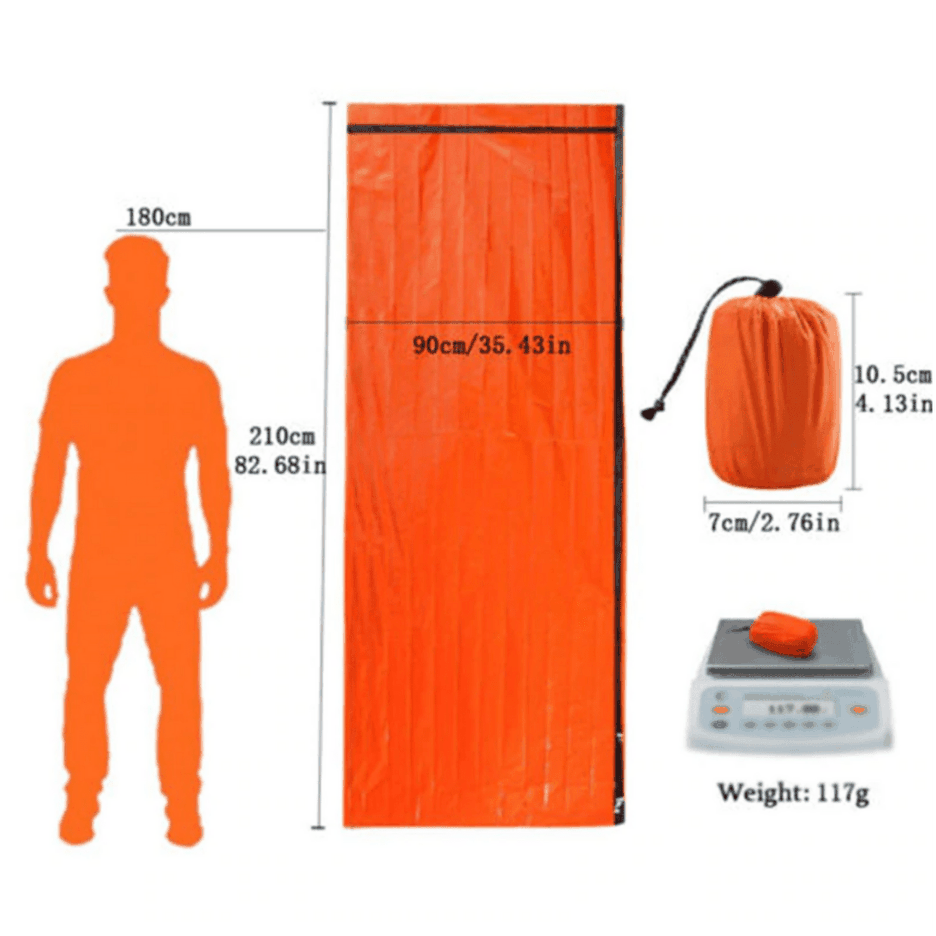 Instance 1
2x Emergency Waterproof Sleeping Bag
Try it out! Satisfaction guaranteed or 100% refund.
Please note: 1 quantity contains 2 packs! ($37.99)
$18.99 each
YOU SAVE:
67% OFF!

5x Emergency Waterproof Sleeping Bag
Stock up and stay safe while you're outdoors!
Please note: 1 quantity contains 5 packs! ($64.99)
$12.99 each
YOU SAVE:
72% OFF!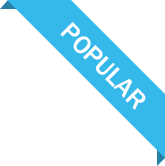 10 Pack
This bundle is perfect for the outdoor enthusiast! Get it for your friends and family and stay safe!.
Please note: 1 quantity contains 10 packs! ($89.99)
$9.99 each
YOU SAVE 78% INSTANTLY!

SATISFACTION GUARANTEED, EASY REFUNDS, AND 30 DAYS MONEY BACK GUARANTEE
If the Emergency Sleeping Bag is not everything that we say it is and you are not completely satisfied with it, then we will refund every penny of your money with no questions asked. That's more than a guarantee, that's a promise.
If you bought it and feel that it is not for you, don't worry. Just shoot us a message at support@turtletry.com and we will make it right by offering you a replacement or refund. 100% Simple & Risk-Free process.
​Buying this Emergency Sleeping Ba​​​​​g will help others too.
Some of the profits we make from helping you keep yourself safe will be donated to charities all over the globe, like "Charity – Water" – a charity that helps kids from developing countries to get access to clean water.
You're doing yourself a favor and you're also helping others in need.
It's a win-win.
ShippingDue to extremely high demand, orders take up to 15-20 days (United States), 20-30 days (Rest Of The World) to ship and arrive. Please be patient, we are doing our very best to fulfil every order that we receive!RefundsIf for whatever reason, you decide you are not satisfied, you can easily and quickly contact our helpful customer support (support@turtletry.com) to get an easy refund. We just ask that you send the product back to our warehouse!
© Turtletry. All rights reserved.​