SAFE AND EFFECTIVE WAY TO KEEP FLIES OFF YOUR FOOD!
Struggling to keep nasty bugs from crawling all over your meal? Been searching for something to keep flies from dive-bombing your food? This is the answer you've been looking for, the holy grail in fly & bug-repelling!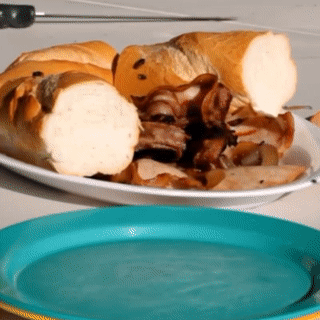 Fly Trap stops bees, wasps, ants and other flying insects from crawling all over your food. Even better, it completely free of chemicals so you don't have to spray poison in the same room you eat.
INGENIOUS DOTTED BLADES SCARE OFF FLIES
This innovative device features dotted blades which bend and refract light. This scares flies and alerts them to danger so they stay away for good! Don't waste another second swatting flies away!
SCARE BUGS OFF WITH HOLOGRAPHMATIC DOTTED BLADES!
These dots refract/bend light which scares the insects. Bending light is not a part of their DNA. In their little fly minds, the bending colored lights are not normal in nature and it appears dangerous to them. They will always choose to go somewhere else because of this!
COMPACT, LIGHTWEIGHT & VERY EFFECTIVE!
Bring it everywhere anytime! Sunbathe, play cards, sit by the pool or dine out on the back deck without kamikaze flies landing on you or hovering over your food! Perfect for picnics, bbqs and any type of outdoor meal or gatherings!
SOFT-STOP BLADES, CORD-FREE!
These blades come to a stop if something touches them, then resume as soon as the obstacle is removed. Runs on (2) AA batteries (not included). Completely safe to use
No more nasty, disgusting bugs crawling all over your meals!
SAY GOODBYE TO SWATTING FLIES AND SMELLY PESTICIDES!
100% Chemical-Free and Odor-Free
Chemicals are unsafe to use around food and drinks; plus, they can be harmful to children and pets. Fly Trap is chemical free so It won't disrupt your meal with strong odors or put your family's health at risk.
Get quality time with loved ones while keeping them safe and protected!
ENJOY PICNICS, COOKOUTS, AND OUTDOOR MEALS WITHOUT PESKY FLIES!
Host BBQ cookout parties, enjoy relaxing drinks with friends, go camping, sit by the poolside, or have a simple weekend meal with your family. All free from pests!
"Flies are a huge problem where we live, but this gadget really does work to keep them from landing on food. Got one for every two plates on my backyard table. Friends are constantly asking us where we got it coz it always works great!"
Why choose Automatic Fly Trap?
Effective pest repellent that sits right on top of your table
Innovative technology that keeps flies away for good
Dotted blades refract light and scare pests
No chemicals, no smells
Safe for pets and children
No need to swat flies away with your hand
Stops immediately when touched

Perfect for outdoor dining, travel, and camping

 
PRODUCT SPECIFICATIONS
Size: 25x9x9cm
Weight: 220g
Package Include: 1 x Fly Trap
Shipping
FREE SHIPPING WORLDWIDE
We processes orders between Monday and Friday. Orders will be processed within 7 business days of ordering and shipped out the next day after the processing day. We don't ship on weekends.